"Modellritning till norsk handelsflagga ca 1814." 1
"Disse flaggforslagene, som i dag ligger i Livrustkammeret i Stockholm, er antagelig forslagene som de svenske kommisærene
hadde til et nytt svensk-norsk handels- og orlogsflagg for unionen. Flaggene har den norske løve i det svenske flagget slik
som den sto i det danske flagget. I virkeligheten var dette en parallell til Christian Frederiks flagg fra februar 1814." 2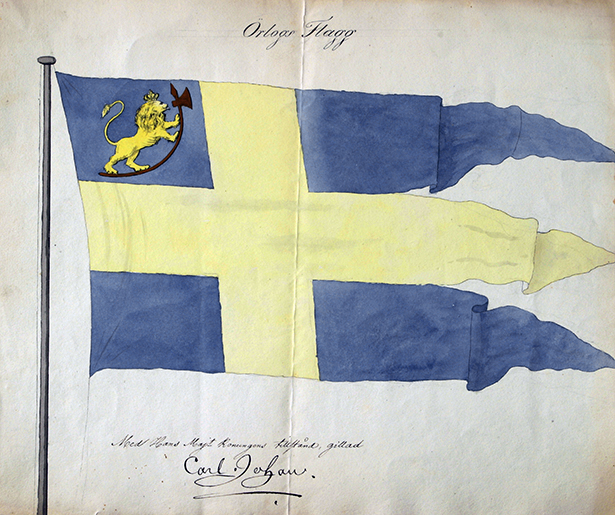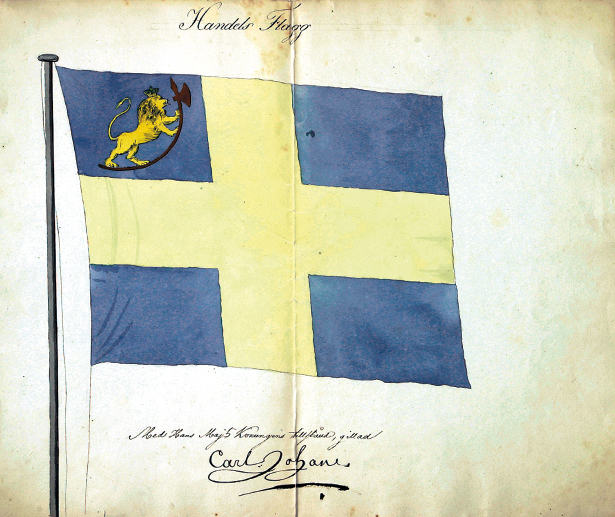 Livrustkammaren Museum, Stockholm, Sverige.
Munksgaard, J.H.: "Flagget, Et nasjonalt symbol blir til" s. 58-59. Vestagdermuseet, Kristiansand, 2012.
Se også: Wilkins, G.:"Third and Improved Edition of The Present State of Europe, With Maps of the Territories, as Settled by the Congress of Vienna.– The Flages of the Different Nations, Coloured. And a Summary of the Events leading to the Alterations; intended for a useful and enteraining Chart of Reference, in the Library & Counting House, and Auxiliary in Schools, to the understanding of the Points of Modern Historical Geography; with the dates of the several Treaties of Peace, the Commencement of Wars, Accounts of Battles, & c . From the Year 1783, to the Present Time." Derbi, 1818.